This recipe is so good I had to publish it again!
Last year I wrote a post about a dessert called Sopapilla, or "Mexican Cheesecake," as it's sometimes called. Readers tried the recipe and loved it, so I decided I should share it again. Everyone who tries it loves it. This is the fail-proof dessert that Daniel and I bring to parties and it's always the first dessert to disappear.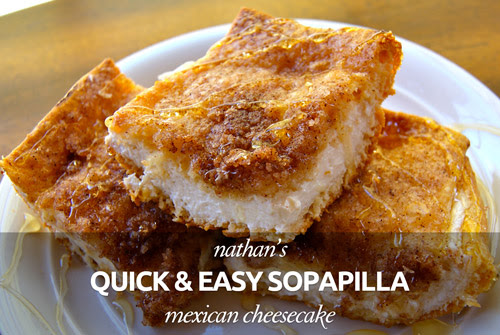 Can't you just smell the freshly baked cream cheese, cinnamon, and honey?
Ingredients for the cheesecake:
16 oz. fat free cream cheese, softened
1 cup sugar
1 tsp. vanilla
2 cans of 8 oz. crescent rolls (refrigerated, unperforated if you can find them)
Ingredients for the topping:
1 stick of butter, softened (equal to 1/2 cup or 8 tbsp.)
3/4 cup sugar
1 tsp. cinnamon
Honey
Directions:
1. Preheat oven on 350 degrees
2. Spread out the first crescent roll on a greased 9×13 pan
3. Mix cream cheese, 1 cup sugar, and vanilla, then spread it on top of the first crescent roll, all the way to the edges
4. Carefully unroll the second crescent roll over the top of the filling
5. Mix together butter, 3/4 cup sugar, and cinnamon. Spread it over the top crescent layer but don't oversaturate
6. Bake for 30-35 mins. or until crust is golden brown
7. Drizzle honey over the top and then cut into squares, serve warm
The recipe serves 12, but for larger groups, we cut it into 24 smaller squares.
Holiday Version
Replace the standard cinnamon topping with 1 tsp of pumpkin pie spice.
A Note to Visitors in Other Countries
As of 2016, this recipe has been pinned over 31,000 times! Thanks for all the Pinterest love.
It's come to my attention that canned crescent rolls are not as common in some countries and visitors have asked for alternatives. Let me start by providing a link to the most common option here in the U.S., from Pillsbury: http://www.pillsbury.com/products/crescents/reduced-fat-crescents. That link will give you a visual and also ingredient information so you can compare. It's a pre-made dough that comes rolled in a can, and when opened, it's easy to spread out and bake with. I've heard that puff pastry is probably the closest alternative, but I haven't tried it. If you have any suggestions for substitutes, please let me know.